Sermons and Worship Video
Rev. Louis J. Mitchell
pastorlouis@alkiucc.org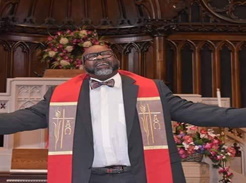 Please welcome Rev. Louis J. Mitchell, who is serving as Alki UCC's Bridge Pastor.
In his application, Pastor Louis stated: "I am seeking a congregation who wants to laugh, cry, work and praise God together! Let's reach for that sacred place of intentional intersectionality that moves beyond the optics of inclusion to the deep preparation to welcome those that have been estranged from places of worship, but not outside of the reach of All!"
His many experiences include Co-Pastor, Recovering the Promise Ministries, Co-Founder of Transfaith, Pastor South Congregational Church, and recently a minister-participant in Plymouth Congregational, Seattle. He is a nationally known speaker, author of documentaries, and an awardee of several awards including Haystack Award for Social Justice and Social Ministry, UCC, Massachusetts Conference.
March 1, 2021

Sunday Worship Worship Video and Sermon Text:
Sunday, October 10
"Grace and Mercy, Enough to Share!"
Sunday, October 3
"Which Church Shall We Be"
Sunday, September 26
"Check Your Invitation!"
Sunday, September 19
"Dangers, Seen and Unseen"
Sunday, September 12
"Body Language"