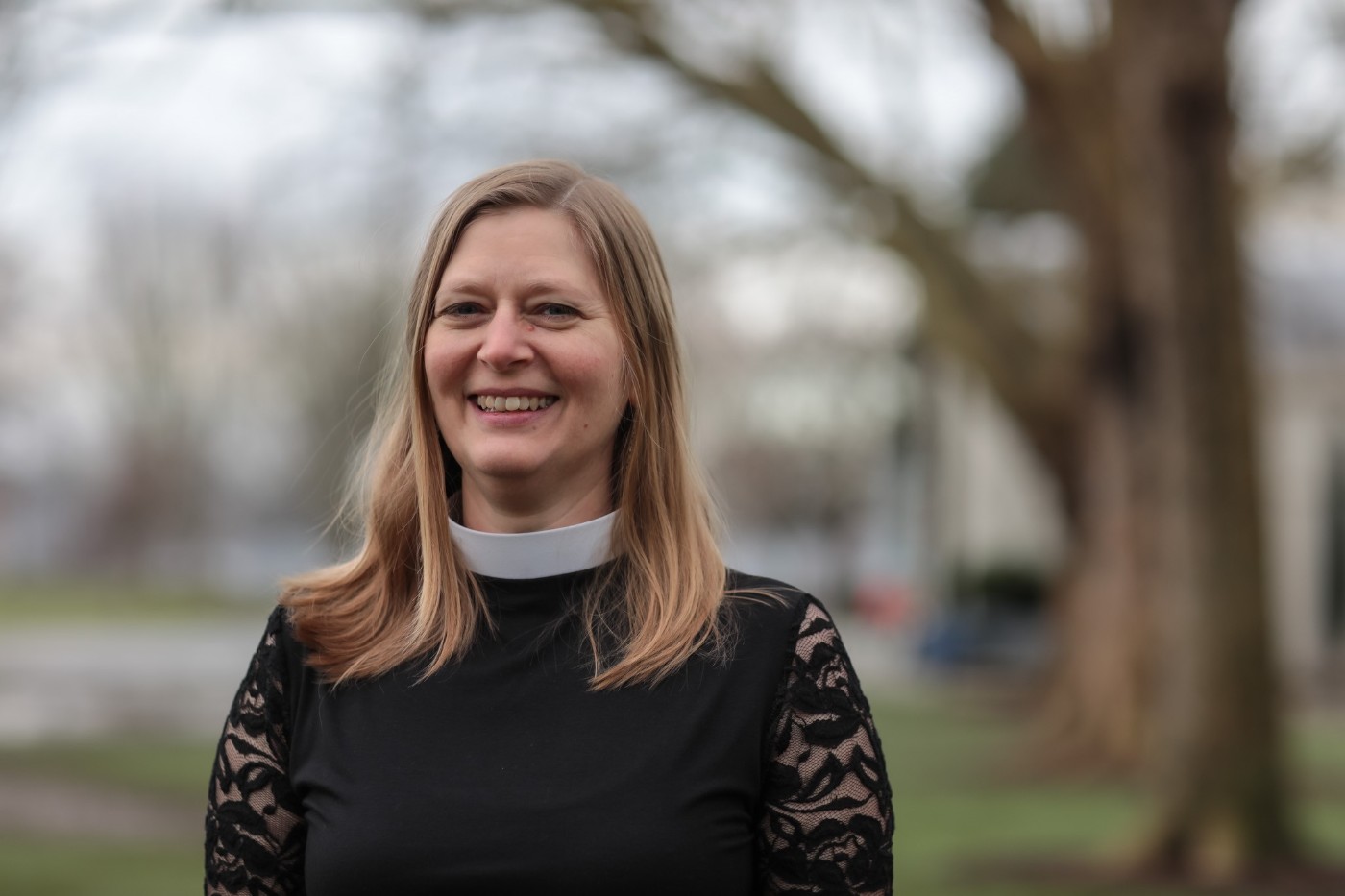 The Reverend Emily Tanis-Likkel
Rev. Emily Tanis-Likkel sensed the call to ordained ministry when she was eight years old, baptizing her baby dolls and creating worship services for her family. She was ordained in 2005 at Eagle Harbor Congregational Church, United Church of Christ in Bainbridge Island.
Her roles in the last seventeen years of ministry across several denominations have included associate pastor, church planter, children and family minister, teacher and workshop/retreat leader. When Emily was called as Bridge Pastor of Alki UCC in July 2022, she came home to her denomination and home to pastoral ministry.
Emily believes it is essential for churches to be a beacon of hope in their communities, acknowledging that each person is of infinite worth and value. Humanity bears the image of God. Beautifully unique in our diversity of race, culture, disability and ability, personality, sexual orientation, gender identity and gender expression, we reflect God, who is wonderfully reflective of all. Everything that we are, God is.
Emily lives in West Seattle in a multigenerational household with her creative-techie spouse, Brett, daughter and college sophomore Eva (who works as tech deacon at Alki UCC), son and high school sophomore Day, and her parents, Marti and Keith Tanis. The Tanis-Likkel family is known for their giant popcorn bowl, frequently filled to the brim.
Emily writes, teaches, preaches and leads from a foundation of embodied spirituality, expansive theology and wonder. She loves walking labyrinths and reading novels. She is trained in Nia, a holistic movement practice, which has informed her own spiritual practice of embodying Scripture. Learn more about Emily at
emilytanislikkel.com
.
Worship Video
January 29 2023
Pastor Emily's Installation Service and Celebration
Rev. Emily Tanis-Likkel
Sermon preached by Rev. Lynn Likkel:
"Beautiful Feet"
January 29 2023
New Member Sunday
Rev. Emily Tanis-Likkel
"All In: Do Justice, Love Kindness, Walk Humbly"
January 22 2023
Third Sunday after Epiphany
Rev. Emily Tanis-Likkel
"All In: Follow Me"
January 15 2023
Second Sunday after Epiphany
Rev. Emily Tanis-Likkel
"All In: Come and See"
January 8 2023
First Sunday after Epiphany
Rev. Emily Tanis-Likkel
"The Legend of the Poinsettia"
January 1 2023
Communion Sunday
Rev. Emily Tanis-Likkel
"God Dwells with Us"
December 25 2022
Christmastide: Lessons & Carols
There is no sermon this week. The service incorporates different scripture readings and carols to tell the Christmas story.
December 24 2022
Candlelight Christmas Eve
Rev. Emily Tanis-Likkel
"We Tell This Story"

December 18 2022
Fourth Sunday in Advent
Rev. Emily Tanis-Likkel
There is no sermon this week. Instead, our service features an original Christmas production by Becky L. Cain, presented by the Alki UCC Choir and Friends.
"Countdown to Christmas"
A delightful new musical about how easy it is to succumb to the busyness of the season. Discover if the true meaning of Christmas will be found!

December 11 2022
Third Sunday in Advent
Rev. Emily Tanis-Likkel
December 4 2022
Second Sunday in Advent
Rev. Emily Tanis-Likkel

November 27 2022
First Sunday in Advent
Rev. Emily Tanis-Likkel
"There's Room for Every Story"
Worship Video
Sermon begins at 11:32

November 20 2022
Last Sunday after Pentecost
Rev. Dr. Keith Tanis, Guest Preacher

November 13 2022
Twenty-third Sunday after Pentecost
Rev. Emily Tanis-Likkel
"The Opportunity to Testify"